RETURN TO HOME PAGE

Click to meet our Chin.... !! Available Puppies !!

*Click Raising your Chin Puppy.... Adoption Information

Contact us: hfdfirerescue@yahoo.com











If you wish to fly in to pick up your puppy, I can meet USA people at an appointed day
at Buffalo Niagara International Airport (BUF)
I'm told Delta is the most expensive carry on for pets
and South Western is one of the less expensive, so shop around.
DO NOT BOOK PUPPY ON United Airlines
because they require Rabies vaccine, UNLESS you have no other options.
IN that case let me know, so I can have a rabies certificate ready.

I will be at LOWER LEVEL by the INFORMATION desk sitting with your puppy.
I will pick a day Monday - Friday BEFORE NOON for you to pick your puppy up.
IF you are coming from TX you may have to fly in the night before and stay overnight.
There are limited flights into Buffalo and many of my people, have done this.

All our pups come with a Vet Health Certificate attesting to the health of our pups.
Should you have any problems with your puppy, and or you not be 100%
happy, PLEASE RETURN YOUR PUPPY TO ME.

Canadians, I can meet at John C. Munro Hamilton International Airport
simply known as Hamilton International Airport (YHM)
Small airport, I can park out front, just easy to go there.
and I can be more flexible on pick up date and times, (ask before booking).

TORONTO: I can't drive to TORONTO Airport, it is too far, roads are often shut down for
accidents, bumper to bumper traffic and my van will not fit in their parking.
However if you wish to fly into Toronto and rent a car to drive to my home
that is your choice and I would suggest doing so, on the weekend when less traffic.

LONDON: London International Airport (YXU) is a longer drive for me, but is also
an option for me to meet you there, to pick up your puppy, as is a safer drive.
I'm sorry but I really dread and hate driving.



1. USA people only, before you commit to flying in to pick up your puppy in person
you will need to ensure that you can get a flight that will arrive before NOON
for me to hand your puppy off to you, and that you can get a flight back home that same day.
People from TX, have had to arrive the night before and return the following day
because of connection problems, and this can add up $$
DO NOT BOOK PUPPY ON United Airlines IF AT ALL POSSIBLE
because they require Rabies vaccine. If unavoidable we will work with this.

2. Puppy can be hungry when you get home.
Or not wishing to eat at all. They will need to eat to avoid "Hyperglycemia"
so do make sure you can give them Nutri-Cal High Calorie Nutritional Oral Gel Supplement
if they are not eating.
RAW as is easy to digest and also what they are used to.
They may just gulp that down super fast, do not panic
Feeding RAW

DO NOT FEED puppy if your flight is under 3 hours before getting home.
Eating during travel can cause puppy's tummy to be VERY upset, causing vomiting or loose stools. = MESS
BRING a tube of Nutri-Cal High Calorie Nutritional Oral Gel Supplement in case of Hypoglycemia.
HYPOGLYCEMIA: This is a potentially serious problem in some toy dogs.
If your puppy overplays, misses a meal or cries too long, his/her blood:sugar level can drop
making her lethargic and weak. In the event that this occurs
you will need to immediately apply 1/2 inch of Nutri-cal, Nutri-Stat, or Kayro syrup
to the puppy's tongue to raise her glucose level.

Your puppy does need to be offered water every 3 hours. Attaching a Lixit bottle to the cage
will allow puppy to access water when they need it.
To allow a place to potty use the cabin washroom
or in the airport washroom, lay down pee pads... NOT in the public potty park for dogs
where goodness knows what coodie infested "Rescues" have brought in.
You can use the grassy areas out front of the airport. Avoid any strange animal's "poops".
Denta sticks, or such will help with puppy hunger and keep them entertained during the flight


3. We have had MANY people choose to fly into our airport and pick up their puppy in person
returning home with puppy, in a soft sided carrier that meets the requirements of their chosen airline.
Airlines are NOT particular (if you don't ask) about size of the SOFT carrier as it will squish under the seat
unlike a hard carrier that needs to be a specific size to fit under the seats.
When flying "with" puppy or "accompanied" the airlines are NOT strict in enforcing size of carrier
and do allow you to open the carrier during the flight, to play and cuddle with puppy.

When booking your flight, you will need to book 15 week old puppy
to avoid puppy needing a rabies Vaccine which should not be done
until puppy is at least 6 months of age (vaccine dose, is for 80 lbs dog !)

I also ask that you arrange to meet me BEFORE 11:59 am
because I have to return home for my other dogs. If this does not work for you then we will have
to negotiate a day, or time, that works for both of us, as my schedule is VERY tight.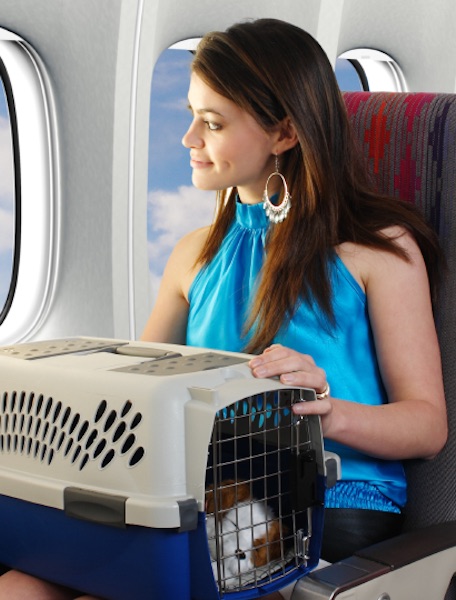 We have also had people hire students, or flight nanny's to meet me at Buffalo Airport and fly home with puppy.
Such a service would be Pet Packers their fee ranging around $600.00 including cage.
Just google "in cabin pet Flight Nanny" to see what options you can find.
Pet Nanny's would meet you at a major airport to hand your puppy over to you.


FROM ONE OF OUR PUPPY PEOPLE -2019 TRAVEL INFORMATION with Puppy Carry On
I will go into allot of detail for you so you can choose
what you want pass on and hopefully since I traveled most of my career
I would consider myself as a well-seasoned traveler.
The goal of this is to provide helpful hints for a non-eventful
travel day for all your future poodle owners.

When making airline reservations first thing I would recommend
is CALLING the airline to purchase your tickets after you have
researched what flights work the best for:

1) traveling time (ideally direct flights).

2) price (know what restrictions are applicable regarding cancellations,
non-refundable or flight change fees) and

3) baggage fee charges and restrictions (you will have the dog carrier
with you at all times which counts as one carry on
and in the second carry on bag I had the dog supplies/necessities
for travel and of course my wallet).. I decided to check my third bag
containing my personal items because I do not like to worry about
how many ounces my toiletries are and other carry on restrictions.
Southwest did not charge me for the bags, but other airlines
especially Spirit (which is a horrible) will charge for all checked bags.
Spirit also bases their checked baggage fee on when you paid for the checked bag.
If you pay for the bag when you make the reservation the fee is lower
than if you pay on the bag the day of travel.

The purpose of CALLING the airline to finalize the reservations
is that some airlines restrict the number of pets which are allowed in the cabin.
This information is only verified by a phone call not on the airlines reservation page.
I called the airline and had my reservation on the computer ready to go,
confirmed there was room for my pet, then booked the reservation.
I then provided my reservation number to the airline so it was noted
that my pet was on the system and good to go. By booking the reservation directly
I did not have worry about additional fees for the airline to book the reservation.
Some airlines charge booking fees if an agent makes the reservations others do not.

Prior to the day of Travel, Items I purchased were:
Soft Sided Dog Carrier
(make certain the carrier picked is approved by the airline, check their web page)
as the carrier will be placed under the seat in front of you.

Pee Pads - In the dog carrier I put a pad in case of an accident.
I chose not the place mom's blanket in the carrier is case of an accident
because having to wash the blanket defeats the purpose.

Garbage Bags or Poop bags for disposal of the pad, wipes in case
there was a bad accident. Bijou Poodles usually provides poop scoop bags.

Portable water bowl or Lixit bottle
(liquids are not allowed through security)

Dental Chew to keep puppy busy and fill any munchies AND
to help clear the puppy's ears during takeoff/landing.
Place the toy i provide in the carrier, so puppy has the familiar smells.

Baby wipes and or Lysol wipes for any accidents (they are still babies)

Collar and Leash Njoy Chin, does provide
so do not bring a wack of toys, or other items that you will just be carrying around.

The day of Travel
Again all airlines have their way of doing things we just need to figure it out.

Upon arrival at the airport I had to pay the fee to carry-on the dog.
I was able to pay at the baggage check in (only by credit card they do not take cash)
preventing me from having the wait in the full service counter line.
This fee could not be paid prior to check-in per Southwest again
check with the individual airline.

Southwest charged $95.00 for my puppy.

Now for the ride home. Technically the dog
must remain in the carrier under the seat during the entire flight.
Only service dogs are allowed out the carriers in the cabin.
I did not have the luxury of a direct flight so for both the landings and takeoffs
I had her in the carrier under the seat. Otherwise she was in my lap,
no one said anything.

Airports offer "relief areas for service dogs".
Buffalo's areas are in the terminals. but not all airports offer in door relief areas.
*NOTE breeder prefers you take pee pad into the washroom on the floor
Because airport relief areas can be frequented by coodie Riddled "rescues"
The Orlando relief area is located outside on the lower baggage claim area.
This meant we had to go through TSA security check again. My layover was 3 hours so we had
plenty of time anything less than 1 and 1/2 hours is risky.

RETURN TO NJOY CHIN HOME PAGE